The Serti (closing or fence) technique: Designs are outlined with gutta or water-based resists, which are applied to white silk that has been pre-washed, dried and stretched (on a stretcher or ironed to freezer paper). Once the gutta or water-based resist has dried, it acts as a barrier for the dye or paint—keeping the color within the outlined areas of the design and allowing you to achieve sharply defined borders. After the dye or paint has been properly set, the clear gutta or resist is removed and a defining line the color of the original fabric remains. Colored guttas and resists are also available that are meant to remain in the fabric. (More information in Resists section.)
How it's Done
Prewash Your Silk

Pre-wash your silk by hand or in the washing machine on a gentle cycle with warm water and Synthrapol. Rinse, dry and, when still slightly damp, press with an iron set to the silk setting.
Prepare Your Design

The Serti Technique lends itself well to designs with enclosed areas where the color will be contained within the resist lines.
Draw your design to scale on a piece of paper, first in pencil and then go over it with a black marker, this will be your template. Lay your silk on top of the template and with a pencil or vanishing marker, lightly draw your design onto the silk. With thick silks you may have to draw free hand but having your template will still help.
Stretch Your Silk
Stretch your silk onto your frame with pins, silk thumb tacks or hooks spaced every 4-6 inches along each side. If need be, you can link rubber bands together for extended lengths. Rubber bands are great because they will maintain the tension of the silk for you.
The goal when stretching your silk is to create just enough tension so that the silk remains taut while you are painting but not so tight that it tears. Your piece may sag a bit once it becomes wet with dye or paint so you may need to adjust the pinning as you are painting. Placing upside down plastic cups or wood blocks underneath each corner of your frame will raise your frame a few inches above your table so that the silk does not have anything touching it.
Apply the Gutta or Resist
(see discussion of Guttas vs. Water-soluble Resists to decide which to use)
Fill your applicator bottle with resist and make sure the tip is on properly. Hold the applicator bottle vertically or at an angle like holding a pencil, with the tip touching the silk. Using even pressure and a steady hand, draw your resist lines. Be sure there are no breaks or gaps in the lines, or dye will escape. Also check the back side of your piece to make sure the resist has penetrated all the way through. If it hasn't, dye can bleed under your resist lines so you will need to apply resist to the back side as well (this is more often necessary when working on silks heavier than 12 mm). Let the resist dry before painting (you can speed up the drying time with a blow dryer or heat gun).
Apply Your Dyes or Paints

(see discussion of dyes vs. paints to decide which to use)
Dip your brush into the color and apply the dye or paint sparingly to the center of an outlined area by touching the brush to the silk. Let the paint move to the resist line – do not apply the paint too close to the resist as water-based resist may begin to dissolve if the line becomes too saturated. If there is a gap in your resist line that you didn't notice and the dye or paint starts escaping, you can stop the movement by drying it quickly with a hair dryer and then patch up the line with gutta or resist and let dry before resuming. When painting large areas such as backgrounds, work quickly, applying wet to wet to avoid unwanted lines.
Set the Color

When you have finished applying dye or paint to silk yardage or a scarf, note that it is not permanent until you "set" or "fix" the color. In other words, the color will all wash out if it is not "fixed". The method of "setting" or "fixing" the color depends on the chemistry of the dye or paint you are using. Before purchasing any dye or paint, you should read the directions thoroughly to determine if the required procedure fits your project and situation.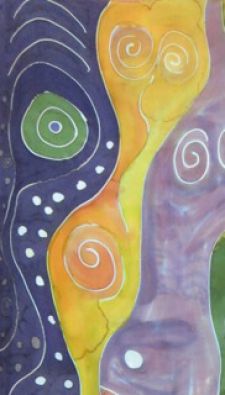 Gutta Serti technique, "Abstract Nude" by Mary Kaye O'Neill