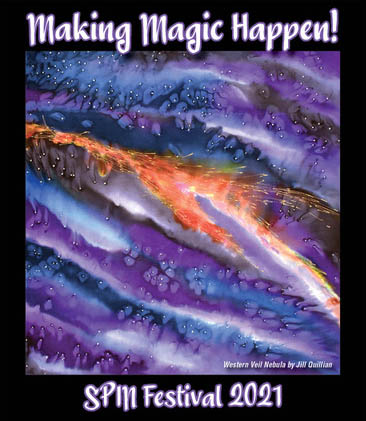 Runway Fashion Show Festival 2021

Call for Entries
Show Date: October 6, 2021 @ 7:30 p.m.
Reception and Sale after the show
Silk Painters International(SPIN) is looking for one of kind, wearable-art silk garments for inclusion in Making Magic Happen Runway Fashion Show.

Submission should be at least 80% silk, original painted or dyed fabrics; no printed fabrics. All works must be wearable objects to be modeled on a runway and must exhibit unique, innovative, inspirational and creative artistry.

Open to all members of SPIN (if not a member, join here.)

Deadline for entries Saturday, August 28, 2021

Please include the following in your entry:
Name, phone, email address, and mailing address

Title of your work

Garment type (jacket, wrap, coat etc.)

What inspired you to make this piece

Limited to two entries

Photographs: one set of 3 images for each entry, preferably on a model or mannequin: front view, back view, and closeup: jpegs please 300dpi (SPIN owns the picture submissions)
Materials used (no more than 25 characters)

Technique

Size of each entry (preferable one size fits all or real size: small, medium, large

Size of scarf or wrap e.g. 14x72

Price or NFS is not for sale (SPIN will retain 20% commission on any work sold)

Submit entries for the 2021 Fashion Show

here

All festival participants are invited to attend this event. If previous festival fashion shows are any indication, attendees will be wowed by the artistic garments.

Tickets will be available to the public so invite your family and friends for an evening of magical inspiration. A wine and cheese reception follows after the show. Garments for sale will be displayed and available for purchase after the show.



We eagerly anticipate your participation and support of the SPIN Runway Show.
Please address any question to us : Bonnie Kurka and Karen Rose at fashionshow@silkpainters.org
| | |
| --- | --- |
| Naila Abrar "Bird of Paradise" Linda Sviland "Something in the Water" Traci Paden "Jazz Jacket | |