HOW TO USE WAX (Hot)
Wax is primarily used for batik and batik variations. Many silk painters use wax as their resist as they develop their designs.
Wax will hold up when painting many layers of dye, water washes, and rubbing alcohol washes.

The disadvantages of using wax are removing the wax with an iron when finished with the painting, dry cleaning after the silk is steamed and washed, and there is a learning curve using the hot wax.

Wax is melted to a controlled temperature and applied while hot to the fabric with a brush or a tool called a tjanting. (See Application Tools below).

Hot wax can also be brushed onto printing blocks to stamp the fabric.

Too high a heat will cause the wax to smolder and may burst into flame.

Good ventilation is essential.

Dyes and paints will not penetrate the areas covered in wax.

To remove the wax: iron between sheets of plain newsprint until most all wax is removed. Do not use printed nesprint next to the silk-it will absorb the ink! Dyes can then be steamed. Not all wax will be removed if using parafin as a part of the wax material


When steaming, add extra layers or cloth or paper between the silks to capture any excess wax while steaming.
Types of wax
Beeswax is generally mixed with paraffin to produce that distinctive "crackle" effect characteristic of batik. This is because paraffin is more brittle and when it dries it cracks to make branch-like crevices through which dye seeps.

Paraffin by itself is too brittle to use because it cracks and falls off the fabric.

Sticky Wax is a low cost synthetic substitute for beeswax.

Batik Wax is a mix of 85/15 Paraffin and Sticky Wax

Soy Wax is water-soluble, fume free. Can be found in candle-making sections of craft stores

An alternative to soy wax and parafin/soy wax is a mixture of 50/50 beeswax and parafin wax.- Removes easily by steaming and is more user friendly.

HOW TO USE WAX SUBSTITUTES (Cold Wax)
Cold wax products are available that simulate the effect of hot wax. These products include Inko Resist, and Presist (pasty substances) and Cold Wax (a milky liquid) which are painted or brushed onto the fabric and let dry.
Cold Wax is water soluble.

Dyes may cause the resist to begin to dissolve.

Cold wax may leave some residue in the silk.

Applied with a brush or stamped to protect the fabric color underneath from dyes.

Allow to dry before painting the area nearby.

Can be used with steam-set dyes.

Rinse several times in warm after setting the dyes.
HOW TO USE SOY WAX
Soy Wax is an all natural alternative to petroleum based Paraffin and Microcrystalline waxes for batik, silk painting and surface design.
Soy wax has no fumes.

The melting temperature range is 110 to 140 F, lower than other waxes.

A double boiler is adequate, or a crock pot or electric skillet that has a temperature control.

Soy wax comes in flake form, not a solid block like other waxes, making it easier to measure out and melt just what you need.

Made from Soybeans, it is a renewable resource.

Soy wax takes longer than hot wax to solidify on the fabric.

Must be hot enough to penetrate the fabric - may require applying on the both front and back. Is very runny in consistency.


When steaming, add extra layers or cloth or paper between the silks to capture any excess wax while steaming.

To remove excess after steaming - wash in hot soapy water (over 140 degrees). No boiling, cooling and skimming. No dry cleaning usually necessary.

Thicker layers of wax should be removed by ironing between layers of paper. Remaining wax will melt easily in hot water and Synthrapol.

Clean up of tools is easy with hot water and any liquid detergent.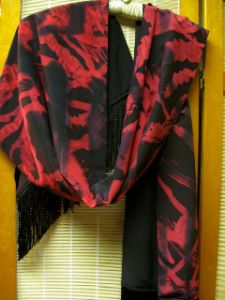 Wax technique on crepe shawl. Red and black on one side, lined black on the other, by Gloria Lanza Bajo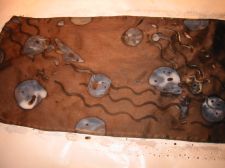 Soy wax technique by Mitzi Ash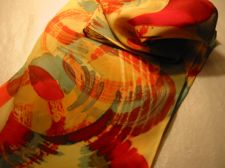 Soy wax technique by Mitzi Ash