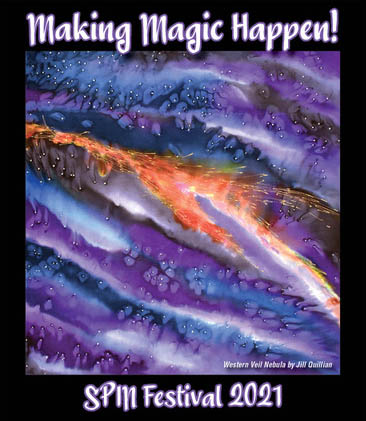 Festival Seminar's
September 17 & 18, 3pm-5pm
FINDING YOUR CREATIVE VOICE - DOSHI
Your creative voice is what makes you. YOU! So, how do you develop your creative voice and find your own unique form of self expression? Can you boost your creativity is you've lost your way? The journey is long, there is no final destination. Instead, it's a pursuit of development, welcoming new sources of inspiration to guide our direction and discovering ourselves in the process.
ON BECOMING A NOMADIC ARTIST - NADJA LANCELOT
The story of how Nadja travels and records her experiences through visual journaling. Learn how to bring your silk painting practice on the road with you. Come away from this seminar with a keepsake journal page of your own SPIN Festival - Arrowmont - Gatlinburg, Tennessee experience.